O'Reilly Scrap Metal Recycling
O'Reilly Recycling Ltd is a well established, constantly
growing, family run business with three generations of the
family working together to bring you excellence in the
scrap metal recycling industry. We pride ourselves on
providing an efficient and reliable service to all our
customers.
The key elements for the company's ongoing success are
the attentive, professional and friendly approach to
customers' requirements. O'Reilly Recycling ensures all
activities comply fully with strict licensing conditions
and operating procedures, particularly in the area of
environmental protection and best practice.
The hands-on approach of the senior management team,
a structure that allows the flexibility to respond quickly
to customer requirements and new market opportunities,
a workforce characterised by loyalty and expertise all of
serve to sustain the quality of services and the continuing
growth of the company.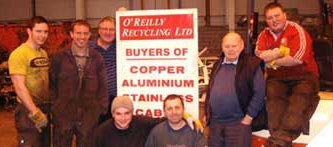 O'Reilly Scrap Metal Recycling Yard Facility
O'Reilly Scrap Metal warehouse and yard facility are fully equipped to handle all grades and quantities of materials from every county in Ireland and we pride ourselves on our ability to accurately and quickly sort and grade all scrap arisings from merchants, demolition sites, ELV sites, factory clearances and the general public.

O'Reilly Recycling Ltd Mission
With O'Reilly Recycling Ltd customers can be assured of a friendly, professional attitude and excellent customer service, innovative processes, ongoing understanding of the market, and competitive pricing. We provide the most effective recycling and scrap solutions for our clients. If you need further information on our Scrap Metal Recycling services please don't hesitate to contact us.